Having a well-designed and functional backyard is a dream for many homeowners in Canada. It's a space where you can relax, entertain, and enjoy the beauty of nature. If you're looking for ideas to enhance your backyard, we've got you covered.
In this article, we will explore four different backyard ideas that are useful specifically for homeowners in Canada. These landscape design ideas consider Canada's climate, housing scene, and practicality.
4 Ideas to Create Your Ideal Backyard in a Canadian Home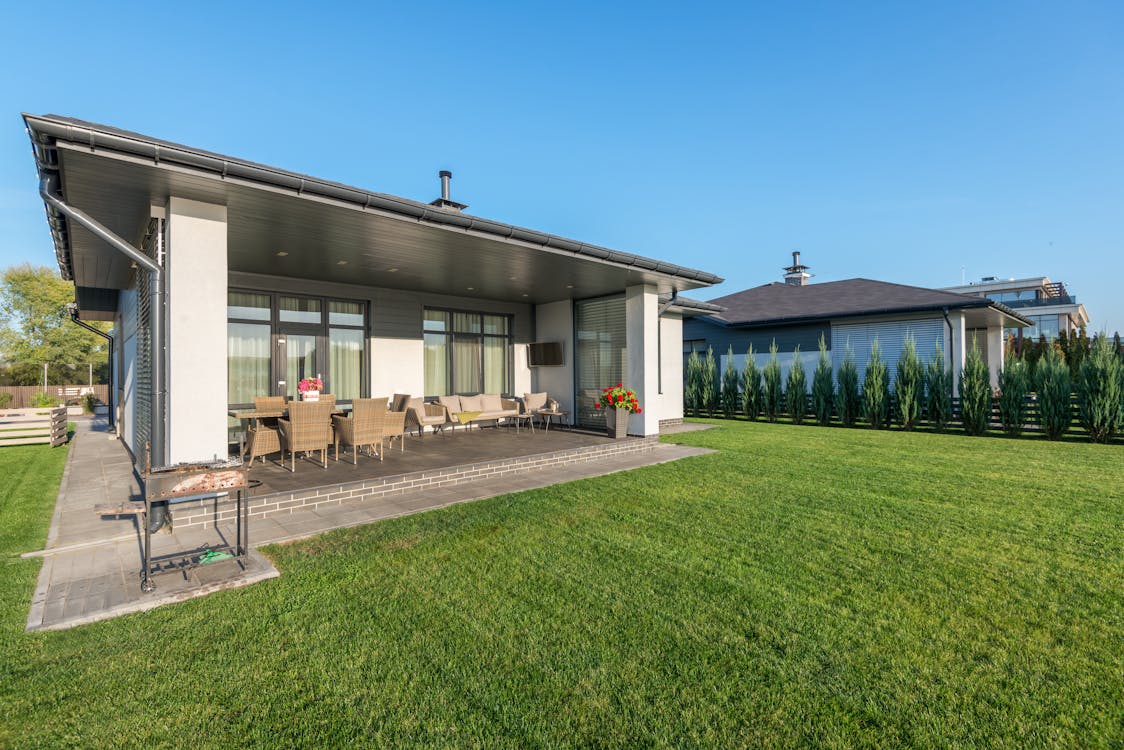 Canada's notoriously harsh winters are the reason many Canadian homeowners are wary about yards since they take too much maintenance. Here are 4 ideas that will help keep your yard in top shape throughout the year in Canada:
1. Create an Outdoor Area Around a Fire Feature
In Canada, where summers are cherished and winters can be long, creating a cozy outdoor living area is a fantastic idea. Start by designing a comfortable seating area with durable outdoor furniture and cozy cushions. Add an outdoor fireplace or a fire pit to provide warmth and create a cozy ambiance during cooler evenings.
2. Build a Functional Meal Preparation Area
An outdoor kitchen is an excellent addition to any Canadian backyard, allowing you to prepare meals and entertain guests in the fresh air. Design a functional outdoor kitchen with a built-in grill, countertop space, a sink, and storage cabinets. Consider incorporating a bar area or an island for food preparation and seating.
3. Add a Water Feature
Water features can add a touch of tranquility and visual appeal to your backyard. Consider incorporating a small pond, a bubbling fountain, or a cascading waterfall. The sound of flowing water can create a relaxing atmosphere and mask any unwanted noise from neighboring properties or nearby roads.
4. Install Artificial Grass
Maintaining a lush, green lawn in Canada can be a challenge, especially with the unpredictable weather conditions. An excellent solution is to install artificial grass. Synthetic grass provides a beautiful, low-maintenance alternative to natural grass that stays green and vibrant all year round.
Artificial grass is durable, requires no mowing or watering, and is resistant to the harsh Canadian winters. It is an ideal choice for families with children and pets who want a safe and clean outdoor play area.
Final Thoughts
Maintaining a backyard in Canada can be a daunting task but artificial grass installation can help you create a sere outdoor haven in your home that immune to Canadian winters.
If you live in Windsor and nearby areas in Essex County, Turrific Turfs has all your artificial grass installation needs covered. Contact us now for a free consultation and our landscape design expert will help you create a beautiful yet resilient Canadian backyard.