Curbing plays an important role in improving the overall aesthetics and value of a property, and one area that needs curbing the most is your backyard. With curbing, you can transform your backyard into a beautiful, functional space that can significantly enhance your outdoor living experience.
That said, before you embark on a backyard curbing journey, there are a few essential factors to consider. In this blog, we'll discuss all you need to know before you curb your backyard.
Define Your Goals and Needs
Begin the process by clearly defining your goals and needs for the backyard. Do you want an entertainment space, a serene retreat, a family-friendly area, or a combination of these? Understanding your desired outcome will help guide your decisions throughout the curbing process.
Consider Your Budget
Determine a budget before you begin any landscaping project. Evaluate how much you are willing to invest in curbing your backyard and allocate funds accordingly. It is important to strike a balance between your aspirations and financial capabilities.
Assess the Site and its Limitations
Before making any plans, assess your backyard site. Take note of any existing trees, structures, slopes, or other things that may impact the backyard design and construction process.
Research and Gather Inspiration
Explore various sources of inspiration, such as magazines, online platforms, and local garden tours, to gather ideas for your backyard curb appeal. This will help you envision the possibilities and refine your design concept.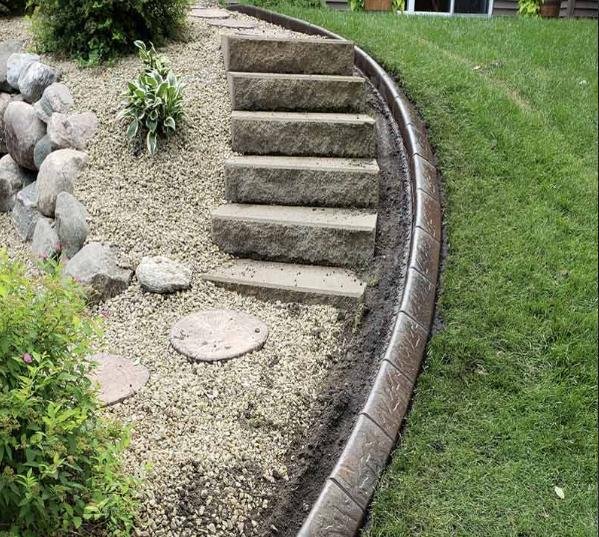 Seek Professional Advice
Consulting with a landscaping company can provide valuable insights and expertise. They can help translate your vision into a feasible plan, taking into account factors like soil conditions, plant selection, and hardscape materials.
Plan for Sustainability
Incorporating sustainable elements, such as artificial turf products, into your backyard design is not only environmentally responsible but can also save you money in the long run. Your backyard curbing plan should revolve around these elements so you can create an eco-friendly environment.
Balance Hard and Softscaping
It's also important to achieve a well-balanced backyard design that involves a harmonious blend of hardscaping (such as walkways, patios, and pergolas) and softscaping (including trees, plants, and garden beds). Find the right balance that suits your style and meets your functional needs.
Consider Maintenance Requirements
Think about the level of maintenance you are willing to commit to in the long term. If you prefer a low-maintenance backyard, opt for plants and materials that require minimal care. Incorporate features like synthetic turf products to simplify upkeep.
Let Us Take Care of All Your Curbing Needs
Looking for ways to upgrade the design of your Essex home? Our seasoned team atTurrific Turf can help you with this! We're a family-owned landscaping company in Windsor that provides curbing solutions and artificial turf installation.
Let us give the best landscape design in Windsor, Essex, and nearby areas in Ontario. Contact us today to learn more about our services.